It was really unbelievable but when we woke up the sun was shining, it was warm and it looked like it never had rained the day before.
So Michi and I were happy about that weather 'cause we wanted to go to
Harajuku
that day, strolling through the streets and also visiting
Yoyogi Park
.
Then we went by
Yamanote Line
to
Harajuku Station.
Jingu Bashi
. There we were asked by two Japanese, which guy we would like to have as boyfriend [they showed us pictures]...
But there wasn't an interesting guy so we said, we need guys with longer hair HA HA...
Takeshita dori
and turned right where a lot of small shops sold colorful clothes, mobile phone stuff and other things. Michi bought a Japan bag, a typical tourist bag, she wanted to have so bad and I found my first
Gachapin
merchandise: earphones! I was so happy!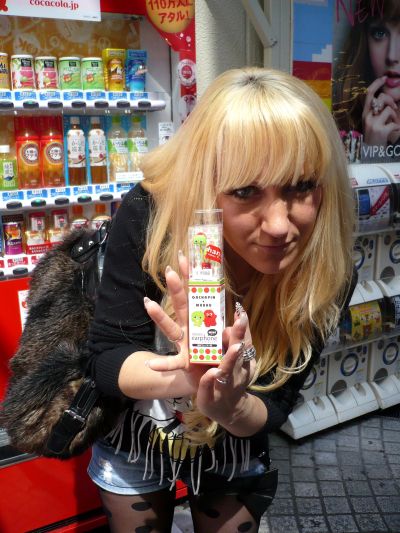 happy Kiki is happy xD
Of course we also had a look at the fan shop from last year. This time I wanted to try my luck again at the
Golden Bomber
key chain Gashapon machine aaand...finally I had luck and got 1x Yutaka and 2x Shou...seems that Shou likes me more than Yutaka HA HA
my preciousssss xD
Laforet entrance
Yoyogi Park
but first we went to
Meiji Jingū
.
Then we finally went to
Yoyogi Park
. Even it was my third time in
Japan
I have never been there.
Hachiko-Bus
, a direct line between
Harajuku
and
Shibuya Station
, departured from
Jingu Bashi
.
But after a long walk in the park we went slowly back to
Hamamatsu-chou
'cause we were done...and, of course, hungry xD
And I was looking forward to the next day 'cause Aya-chan wanted to come back from
Sendai
and we wanted to meet one of her friends, Yacchi-kun, to drive around with his car.